The AC comforter is a bedding style that has been around for decades, but it may not be as well-known as the duvet or quilt. However, this doesn't mean that it's less popular.
The AC comforter is often just used in warm climates and during summer months due to its lightweight design. In addition, you can find an AC comforter in almost any color imaginable because of how versatile the fabric is!
What is "ac comforter"?
An "ac comforter" is a type of bedding, typically used in the summertime. It's often made with cotton or bamboo fabric and can be found in many different colors.
The purpose of an "ac comforter" is to keep you cool during warm weather months!
In recent years, the development of fabrics and fillings in ac comforters has been very rapid. From those made from cotton to chemical fibers or other materials.
Silk is now one of the most luxurious options available for a cozy night's sleep!
What is "AC Comforter" made of?
The market is full of all kinds of very cheap or very expensive ac comforters. The market proves that cheap ac comforters use poor materials. One can see this as a blessing because it allows customers to buy the most affordable kind without compromising quality, but one could also argue that many people will want more luxurious items and therefore won't be satisfied with these low-cost goods despite their affordability.
It's difficult for some buyers who would like an inexpensive option to find any in this marketplace – not only are there few good deals on cheap products, they often feel subpar when compared side by side against pricier models; even though cheaper options exist here too (you just have to look harder).
Tencel™ fabric is the better price we have found so far, and it has good air permeability. The temperature of its fitting will be cooler than that of cotton
Mulberry silk currently outperforms with much more breathable fabrics in regards to heat preservation as well as anti-allergic properties.
Is AC Comforter easy to care for?
If you use an ac comforter filled with chemical fiber, it is very easy to take care of. You can wash the quilt in a washing machine and dry it on low heat for 5-6 hours before reuse!
But if you are using our patented mulberry silk quilts, then we have your back because they cannot be washed with water over time.
Our washable mulberries silks undergo special processing during manufacturing that leaves them knot-free after being washed–no need to wait all day long for drying cycles!
Mulberry silk is delicate and will dissolve in alkaline detergent. Avoid using it, or you'll have a pile of loose fibers that would need to be cut by the thread before they can be used again.
However! There's no problem with our other cotton fabrics because we use plant-based dyes – these are safe for all types of washes (including hot water).
Mulberry silk is a natural and organic material that can be used for comforters. This makes it popular among people who care about the environment, such as environmentalists or those with allergies to synthetic materials.
How about AliceTod's ac comforter?
Bedding has never been this easy! We offer the choice between one single ac comforter or buy a set of 1 cotton-filled and 2 pillows. You can't lose with our wide array of colors in Tencel™ fabric, which is sustainable and hypoallergenic for sensitive skin types like yours.
*The choices are not difficult: either get an ac bedding product to keep you cozy all summer long, or go without.*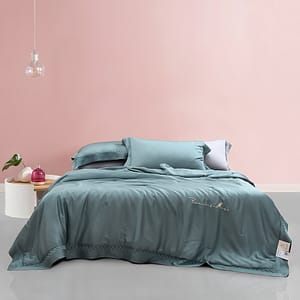 From the finest materials to expert care, this is one of our best ac comforters.
It has five different sizes for your bedding: California King, king size, queen size, full-sized, and twin XL or Twin Size.
If you need customized sizing please contact us because we would be very happy to help you!
Is AC comforter worthy buy?
In the summer, it can be hard to find suitable bedding for your home because of how hot and uncomfortable any material may feel.
Luckily there is one that stands out more than others when it comes to comfort: The air conditioner comforter!
This thing will make you sleep well even on the hottest days with its natural ability of breathability and keeping you warm while also providing dryness throughout each night uninterrupted by sweat or drool marks from restless snoozing.
During the humid summer months, nothing feels better than a cool bed. That's why we're so excited to offer you our air conditioner products for your bedroom!
Whether it's an air conditioner quilt or comforter that suits your needs best, buying either will be sure to make all of the sleep more pleasant during those hot nights.
Check out this article on silk filling guides and find out which one is right for you!